One of the popular dishes David Jackman served at the 2019 Vanilla and Chocolate Festival, was spinach salad with a pesto dressing. A couple of details made it a stand-out salad. The baby spinach leaves were sliced as thinly as possible then coated in pesto made with baby arugula and pistachios, and topped with coarsely toasted pistachios. It's unique, delicious, joyfully messy and you'll want to check your teeth after eating it, but it's worth it!
If course I could hardly wait to make it for my family. When my family came to visit in late October I made it and they they loved it.
However, I made some significant changes. First, the late season baby arugula leaves I purchased at the Farmers' Market had a distinctly bitter edge. Also, the pesto I made was too thick to easily blend with the spinach leaves without over-coating them. I solved both issues by whisking 4 tablespoons of pesto blended with a bit more more olive oil, a splash of sherry vinegar, a spritz of lemon juice, a pinch of sugar and a 1/2 teaspoon of vanilla. This softened the bite of the arugula and the pesto blend worked very well. I have since added cherry tomatoes and Italian olives. If you want a hardier salad, add thin slices of prosciutto, mortadella or other salume.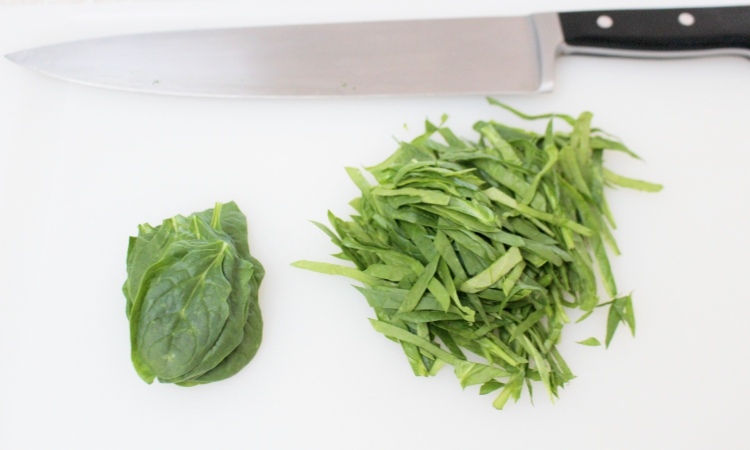 All this is to say that many recipes, and in particular, salads are forgiving and you have some leeway for making it to fit your family and/or circumstances. Feel to improvise!
If you have a favorite recipe for making pesto, use it if you wish, and switch out the basil for arugula, and use pistachios instead of pine nuts. Otherwise, my pesto recipe is part of the following recipe.
Finally, unless you are making this salad for 12 or more, you are bound have leftover pesto. Put it in a container and top it with 1 – 2 tablespoons of olive oil, which will help to protect it from mold and keep it green, then refrigerate for a few weeks or freeze it until you're ready to use it in a salad, on pizza or over pasta.
Print
Spinach Salad with Pesto Dressing and Pistachios
Approximately 6 ounces baby spinach leaves, washed and dried
1 cup of cherry or pear-shaped tomatoes sliced into quarters or halves
12 Pitted Castelvetrano or Greek olives (optional)
1/2 cup coarsely chopped, toasted pistachios for topping salad
Pesto
2 cups baby arugula leaves, rinsed and dried
1/3 cup toasted pistachios coarsely chopped
1 garlic clove, minced
1/2 cup freshly grated Romano or Parmesan-Reggiano cheese (about 2 ounces)
1/2 cup extra virgin olive oil
salt and freshly ground black pepper to taste
Pesto Dressing for Salad
4 – 5 tablespoons prepared pesto
2 tablespoons extra virgin olive oil
1 tablespoon sherry wine vinegar
1/4 – 1/2 teaspoon Rain's Choice vanilla
1– pinch sugar (optional)
Squeeze of fresh lemon juice (or to taste)
Salt and freshly ground pepper to taste
Instructions
Using a chef's knife or sharp paring knife, stack 5 – 10 spinach leaves. Use one hand to carefully hold spinach in place, then slice vertically into thin shreds and place them into the salad bowl. Continue this process until all the spinach has been shredded.
Cut cherry tomatoes and set aside.
Make Pesto
Using a food processor, add arugula and pistachios and pulse several times until pistachios are incorporated with the arugula.
Add the garlic and cheese and pulse several times until the ingredients are well incorporated. Wipe down the sides of the processor with a silicone spatula. Turn the processor on then add olive oil in a slow stream until incorporated. Put the pesto into a small bowl or container and add salt and pepper to taste. Set aside.
Pesto Dressing
In another small bowl, whisk together 4 – 5 tablespoons of pesto, 2 tablespoons extra virgin olive oil, sherry wine vinegar, vanilla, sugar if using, lemon juice, salt and pepper. Taste and adjust flavors as needed.
Spoon pesto dressing onto spinach slowly, working it into the spinach with a fork until the spinach leaves are well coated. Set any leftover dressing aside.
Add the tomatoes and olives (if using) and toss well. Sprinkle pistachios over the top.
Look Delicious?
Pin it for the world to see!
Latest posts by Patricia Rain
(see all)