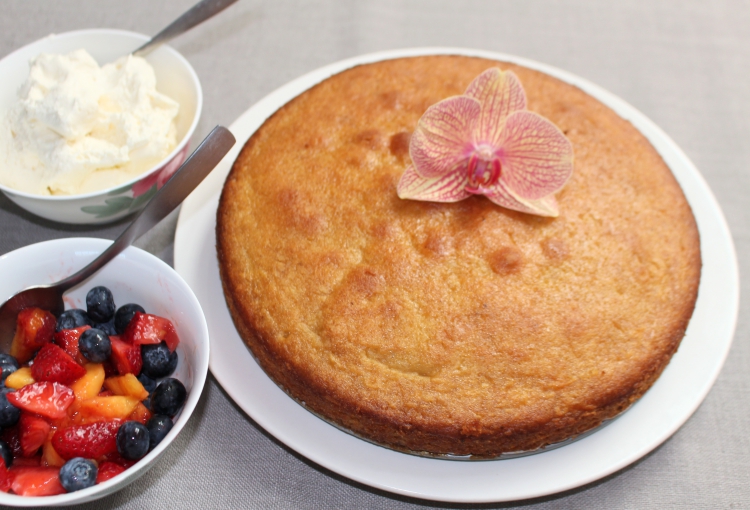 When I lived in the countryside, I made this exquisite Double Vanilla Poundcake with Rum-Vanilla Glaze, partly to demonstrate the quality of the vanilla I carried and also, to promote The Vanilla Cookbook, which came out in 1986. The irony of the situation was that people wanted to buy the cakes, not the cookbooks!

This is a traditional pound cake recipe: 1 pound butter, 1 pound flour and 1 pound eggs. That's where traditional ends.The closeup of the freshly baked cake above and below, shows how attractive the glaze makes the top. It has an almost lacquered look to it. After a couple of days of resting, the cake is incredibly flavorful and moist and lends itself perfectly to use as a base for berries and whipped cream or for a more complex dessert, including a luscious bread pudding.
I made the round cake at the top plus the two loaves below with this recipe. It freezes well and also keeps well in the refrigerator for a few weeks. The recipe divides easily in half, so make half if you prefer.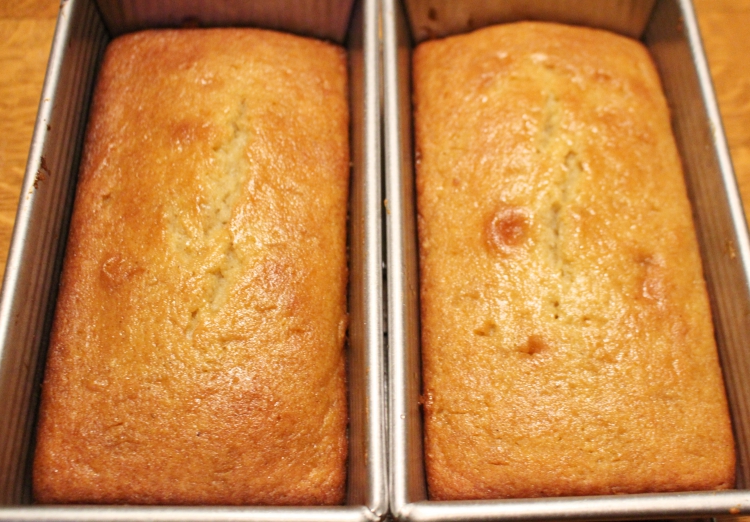 The original recipe called for the use of a vanilla bean plus vanilla sugar and extract. I've now updated it, so that you can either use extract and ground vanilla bean powder or vanilla paste.
As per making a glaze, you don't need to use rum (or Brandy) . Because you're working with a simple flavor pallet, feel free to substitute citrus or other flavors. I recently made one simple change to the recipe that I love. I cut the sugar for the glaze by 1/3 cup and substituted 2 tablespoons of a mild honey after the simple syrup has reduced. I love the lacquered glaze a lot!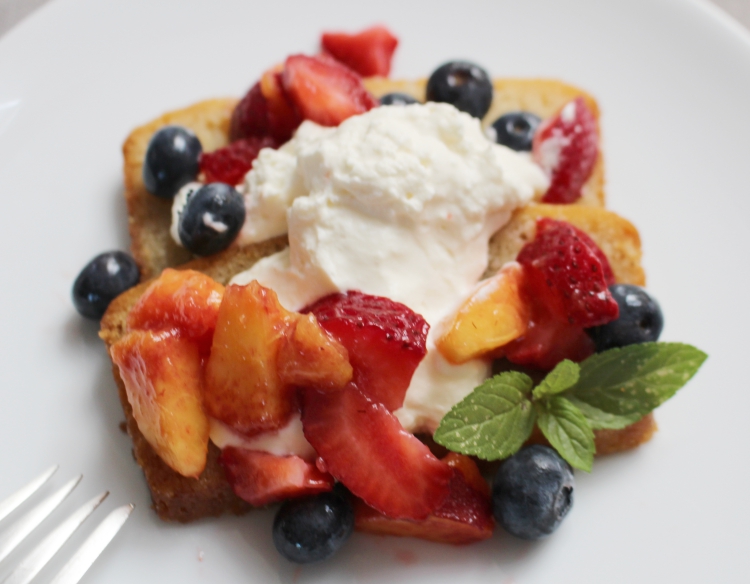 Substitute is wonderful cake for the biscuits for shortcakes if you'd like. I actually prefer it myself. And, if you aren't already thinking about this, this recipe makes wonderful little poundcake loaves for hostess and holiday gifts!
Print
Double Vanilla Poundcake With Rum Vanilla Glaze
Pound Cake
1 cup milk, room temperature
4 cups flour, sifted
1 tablespoon baking powder
1/2 teaspoon salt (if using salted butter, delete)
2 cups unsalted butter, softened to room temperature
2–1/2 cups Rain's Choice Vanilla Sugar or plain sugar
6 jumbo eggs, room temperature (or 7 large eggs)
1 tablespoon Rain's Choice pure Vanilla Extract plus 1/2 teaspoon Rain's Choice ground Vanilla Bean Powder, or 2 teaspoons Vanilla Bean Paste
Rum-Vanilla Glaze
1 cup sugar
1 cup water
1 tablespoon Rain's Choice pure Vanilla Extract (I like Tahitian)
1/4 cup rum (or substitute other liquor such as Brandy)
Instructions
Pound Cake
Preheat oven to 350 degrees.
Resift the flour with the baking powder and the salt onto a sheet of waxed paper; set aside.
In a large bowl, cream the butter with an electric mixer on moderately high speed until light; about 3 minutes.
Add the vanilla (or plain) sugar in two portions, beating thoroughly after each portion is added. Beat in eggs, one at a time, periodically scraping down the sides of the bowl to ensure an even mixture. Blend in vanilla extract and ground powder or vanilla paste.
On low speed, add the sifted dry ingredients alternately with the milk, beginning and ending with the dry ingredients.
Pour and scrape the batter into lightly buttered, floured 10-inch tube pan, a large square baking pan or three loaf pans. Bake the cake on the lowest rack of the oven for about 1 hour, or until a toothpick inserted into the cake emerges clean and dry.
Cool cake in the pan on a rack for 10 minutes. Prick holes all over the top of the cake with a thin knife or toothpick and slowly spoon glaze over the cake, allowing the syrup to absorb into the cake.
Rum Glaze
Place sugar and water in a small saucepan and bring to a boil. Reduce heat and simmer for 10 minutes, or until syrup begins to thicken. Allow to cool slightly before adding extract and rum.
Notes
Because of the alcohol, and glaze, this cake stays moist for a long time. You can store in the refrigerator wrapped in foil or cover it with a tea towel moistened with rum. Make this cake at least one day ahead as the flavor is better when it rests at least 24 hours. I make the glaze with 1/3 cup less sugar. When it has thickened some, I add 2 tablespoons of mild honey. It gives the glaze a lacquered look and a delicate vanilla-honey-rum flavor.
Latest posts by Patricia Rain
(see all)