A Lemon Festival in Monterosso al Mare
Rick Steeves declared Cinque Terre (five lands) his favorite place in his
favorite European country.  In the early 1980s Rick, then a backpacker traveling through Italy, discovered the region and wrote about it.  Now a well-known travel guide and author of immensely popular books on Europe, Rick is largely responsible for changing the fortunes of the inhabitants of the five small Mediterranean towns.
Genoa and Spezia, to the north, have deep water bays and Genoa, once home to Christopher Columbus, is the largest seaport in Italy.  But further south,  Cinque Terre remained, until recently, largely isolated by the rugged terrain that rises up from the Ligurian Sea and was only accessible by water, train or on foot.  Although there is now a road that connects Cinque Terre with the world at large, cars are not permitted into several of the towns.
For centuries Villagers eked out a living by fishing, growing olives for oil and producing a lovely crisp white wine known as Cinque Terre and a sweeter dessert wine, Sciachtera, both made from the same grape varietals.  The weather is gentle, with comfortable winters and summers that average 75 degrees.  While lacking in money, the region was largely protected from outside influences and families survived using the generous resources of the fruits of the sea and a forgiving climate.
In earlier times the region suffered pirates who raided the western coast of Italy, and fortresses were built into the rocky bluffs overlooking the sea in an attempt to protect the villagers.  By the 1990s, a new invasion occurred: tourists, who brought, rather than took money, in exchange for a few days of wining, dining and hiking the Sientero Azurro.  Rather than holing up in the fortress, the locals have embraced the new invaders, though I'm sure that by late August they are counting the days until the season has passed and life is quieter again, if only for the winter.
The five small towns of Riomaggiore, Manarola, Corniglia, Vernazza and Monterosso are tucked into the rocky hillsides and precipices that rise abruptly in some spots and a little more kindly in others,  from the sea.  Terraces have been painstakingly built for the olive groves and grape vines; a local variety of lemon grows in everyone's gardens.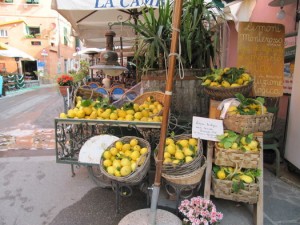 Travel in the Cinque Terre is by ferry, train or a pathway that travels the cliffs between the five towns.  The train travels largely through tunnels, emerging briefly to bursts of sunlight and the dazzling sea below.  However, the pathway provides a stunning view of the coastline.  Now a national park and UNESCO World Heritage Site,  Sientero Azurro (Light Blue Trail) as the pathway is known, stretches more than 10 km between the towns.  Part of the pathway is quite manageable, but the altitude changes by over 2000 feet and the entire walk takes about five hours.   Because our time in Cinque Terre was limited, we walked only part of the trail.  Actually the three men in our group took on the most difficult part of the path one day and were rewarded with stunning vistas and a good workout.
We three women spent the day relaxing in Monterosso, enjoying the delicious food and, dare I say it, gelato?
In my last entry I didn't talk about the seafood.  Obviously, five villages grown from the sea, specialize in seafood.  Anchovies, caught in nets at night, are sold early in the morning in the markets.  They are a world apart from the salted fillets sold in tins.  The small, silver fish are pan fried and served in lemon sauce, stuffed with bread, Parmesan and herbs then baked, or, most traditionally, baked with potatoes, tomatoes, oregano and olive oil.
There are numerous local fish as well as lobster, squid and shellfish.   A young couple at the table next to us in Monterosso ordered the house special, which came in an earthen tureen.  I asked if I could take a photo and they obliged.  Very appealing but also very expensive.
In addition to the pansotti, which I wrote about in my last blog, there are a few other local pasta specialties.  Vegetable stuffed pasta is served with a tomato-based seafood sauce and trofie is made with chestnut or potato flour along with wheat, and is a rustic, hearty dish.
One evening Sandra tried the local torta della nona along with Sciachtera, the local dessert wine.  The torta was drier than the Tuscan version and is supposed to be dipped into the wine and then eaten.  I had the local version of Tiamasu, which was also different though quite tasty.  It consisted of a piece of cake that had been soaked in espresso, chocolate and liqueur, then covered with a rich mascarpone creme and sprinkled with cocoa.  I have looked for a comparable recipe with no success.
The day we left Cinque Terre Monterosso was celebrating the local lemons by hosting a day-long festival. I walked the town quite early and was treated to women carrying baskets of lemons, bags of lemons were stashed along side streets, waiting for someone with a cart to bring them down the hill, beautiful lemon tortas, limoncello, marmalade, buttery lemon cookies and much more, set out on tables for visitors to purchase.
We sampled two versions of the local Torta al Limone, both of which were delicious, but neither was as lemony as I would have expected.  Having grown up on lemon curd and having had Meyer lemon trees in my life for decades, I really like the flavor of lemon to be tangy.  I was given a recipe by Felicita's husband for Torta al Limone, which I jotted on a notepad.  Given my schedule, I haven't yet made it, but it is redolent of fresh lemons as well as sweet butter and almonds. I found this recipe on the by Deborah Mele, and the ingredients are almost identical: Torta al Limone.
It wasn't easy leaving Cinque Terre, but once on the train, I was looking forward to finally visiting and exploring Rome.  More on that in the next blog.
Latest posts by Patricia Rain
(see all)
Tags: Cinque Terra, Cinque Terra Seafood, Italian lemons, Monterosso Lemon Festival, Rick Steeves, Sientero Azurro, Torta al Limone
Trackback from your site.
Patricia Rain
Patricia Rain
is an author, educator, culinary historian, and owner of The Vanilla Company (www.vanillaqueen.com), a socially conscious, product-driven information and education site dedicated to the promotion of pure, natural vanilla, and the support of vanilla farmers worldwide. She also does culinary presentations for food professionals, cooking schools, trade shows, food fairs, and private groups, and is a regular radio and TV guest.