With the arrival of the new year, the 2011 retail season has drawn to a
close.  Halleluiah!  While I once loved the holidays (note I said loved), when you work retail there is very little time to shop, cook, party or celebrate. I got home from work two hours before my family arrived on Christmas Eve, and while it was lots of fun (at least I think I had fun), it was a blur and over in a blink. Then a few days off and back for the New Year shopping rush.
When January comes around, everyone else is partied out and we retail workers, ready at last to celebrate, most often do it on our own. However, as a January baby,  January is my month, whether with friends or without and I do my best to make it memorable.
As Christmas and the new year fell on Sundays  I've had a few extra days off from the market where I create new recipes, prepare the food and engage customers in the fun.  Instead, I  cleaned and polished the house, put the garden to bed for the winter, and  sent out belated greetings to family and friends. Today  I rewarded my hard work with an indulgence: Dungeness crab.
My family moved to California when I was three years old. My parents immediately discovered this most delicate of crustaceans and it was a standard on our table each New Year and several more times in the early months of the year.
Crab season begins in California just before Thanksgiving most years and runs until May or June.  The exact dates vary due to availability of the crabs and the weather, but it is a revered tradition with many of us who live along the Coast to enjoy crab during the holidays and in the late winter when they are at their best.  Later in the season they're not as good, they become less available, and the price goes up. This is as it should be; we rarely eat it often enough that it becomes too familiar and loses its appeal.
As I walked to the harbor early this afternoon, it was warm in the sunshine, cool in the shade, and the water sparkled.  People worked on their boats, removed holiday lights, dogs trotted by their owner's sides and workers spruced up the paint on out buildings. A beautiful winter day.
Thinking about the crab I was about to purchase brought back a slew of  memories. In my home there was a standard meal for crab. There was plenty of crab to go around, nutcrackers to open every joint and crevice for the sweet meat,  mayonnaise in several bowls, a large romaine salad with vinaigrette, and warm sourdough bread and butter. A large empty bowl sat in the middle of the table where we discarded the shells.  It was heavenly.
We kids reached for the legs and ate our crab as quickly as we could crack the shells and pry out the sweet meat. We paid no attention to the salad or bread; we were only focused on the prize. By contrast, my mother chose the carapace with its thin white membrane separating the meat in small chambers. Very carefully she removed the meat from the matrix and placed it in a tidy little mound in the center of her plate.  While she worked she ate salad and drank wine.
Soon our share of the crab was gone and we were left with the reality of  salad and bread. It was now that my mother tucked into her crab, daintily dipping it into the mayonnaise and savoring each bite.  I remember wondering how she had such willpower to create the lovely pillow of crabmeat with only a little nibble here and there. Much older now, I've learned the value of patience.
Crab is enjoyed in many ways.  While I haven't eaten at the wharf in San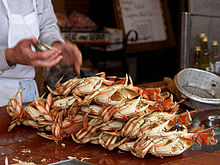 Francisco for decades, I imagine that it hasn't changed much. You could order a whole crab in the restaurants or pick them up next to the steaming pots outside, tended by workers who got the crabs from the Italian and Portuguese families who ran the small white boats in the Bay, dropped the traps, checked them daily and sold them to their friends and relatives at the wharf.
You could have a crab cocktail with a tomato sauce that I have never  liked, eaten using small seafood forks and with lemon squeezed over all.  Or you could order a Crab Louis, a salad made with iceberg lettuce, tomato chunks, hard-boiled eggs, a hefty serving of shelled crab and a dressing similar to Thousand Island but not quite so sweet.  In my opinion, these recipes  smother the delicate sweetness of the crab.
I've had crab cakes — some memorable, some memorable for all the wrong reasons, Italian cioppino, Chinese-style crab, served hot with a black-bean sauce, rich and decadent crab and artichoke casserole and even crab quiche and ravioli.
But really fresh crab on its own, whether served with drawn butter or homemade aoili, is my idea of wonderful.
The least expensive place to procure crabs other than setting traps yourself, is to go to the harbors or wharfs where the boats come in. No middle man or wholesale-to-retail charges.  As I wasn't prepared to wait for boats, I went to my favorite little dive — an unmarked fish depot tucked underneath a solitary restaurant and next to a boat repair facility.  Prices are scribbled on a board, the floors are wet, the fresh catch of fish is iced in a barrel and the live crabs are in a big tub outside.
A cute young man, probably not old enough to legally drink, was taking an order by phone. He had on a rubberized apron and rubber boots and clearly was no beginner at his trade. He fished a crab out for me, weighed it on the scale and called 2.06 pounds as 2.  He did me the favor of whacking the crab with a wooden mallet, wrapped it and put some ice in the bag to keep it cold while I walked home. It was $2.50 a pound cheaper than the market price and and far fresher.
While the water boiled I prepared a salad and made fresh aoili, which is my recommendation unless you are a dyed-in-the-wool drawn butter person from the East Coast.
I placed the crab and aoili on top of my salad, poured a glass of Pinot Grigio and sat in the sunshine on my deck until it dipped behind the pines. This is my idea of the perfect way to begin a new year.
A word about aioli: First, it's really easy to make, whether by hand or in a food processor or blender.  Second, there are many variations on the theme.  You can add as much garlic as you'd like, fresh herbs, use a blend of oils, use just lemon juice or a mix of vinegar and citrus.  The one very unusual ingredient that is anything but traditional, is a dash of pure vanilla!
Sounds crazy, I know, but vanilla adds some unexpected depth along with a hint of sweetness.  I had a moment of hesitation before adding it the first time and was more than pleasantly surprised.  Try it: if you don't like it don't use it again. I suspect you may become a believer like me. Here's my recipe for aioli.
I am envisioning a wonderful year for us all.
Latest posts by Patricia Rain
(see all)