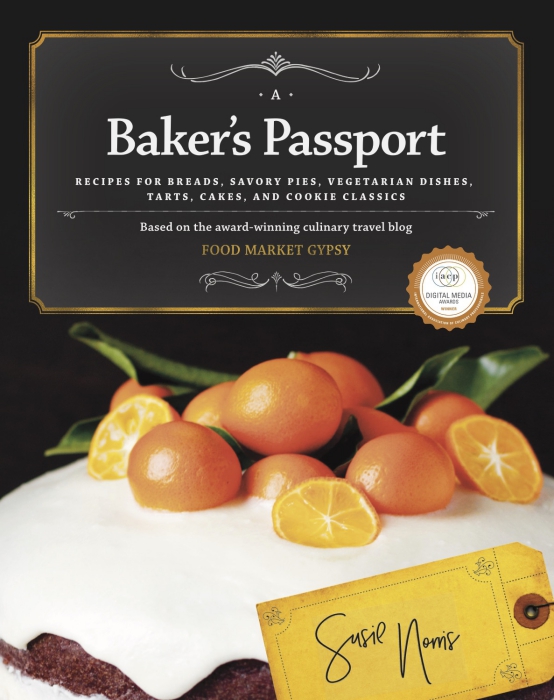 Susie Norris's has recently self-published A Baker's Passport, a compendium of recipes she collected over the years for her award-winning culinary travel blog, Food Market Gypsy. As those of you who have read my newsletters or followed us online for a long time know, I really enjoy supporting my friends and colleagues in their endeavors. I haven't dedicated a full-blown blog to a cookbook for a while, so first reading, then writing about A Baker's Passport, has been a lot of fun, especially as the book is filled with recipes from around the world, which Susie has collected over the years in her food-focused travels.
Susie and I first met when she wrote her first cookbook, Chocolate Bliss (Random House/Celestial Arts, 2008). Here's a recipe for Gift of the Gods Cake, which lives up to its name. Susie also wrote, Hand-Crafted Candy Bars (with Susan Heeger, Chronicle Books, 2013). This time around she decided to self-publish, which piqued my interest, so I asked her about how she compares the experiences of writing for a publisher and self-publishing.
Self Publish or Use a Publisher?
Susie says, "The best part of publishing this book without a traditional publisher was the creative freedom. I had the freedom to tell my culinary story with many recipes, stories, and photos. It was more expensive than I had hoped (so many color photos), but the photos were very much part of the story. Since my first two books were with traditional publishers, I was used to a high standard of editing. I really missed that – it was much harder to edit without those pros! And full distribution would be nice, too. Otherwise, independent publishing is viable and rewarding, especially if your expectations for a book are marketing progress for your brand rather than bestseller status." A good answer for any culinary writers considering which way to go."
Susie's career path has been interesting as well. In addition to her blog, Food Market Gypsy, which won the IACP digital media award in 2016, and her earlier books, Susie Norris is also a pastry chef and culinary educator, as well as a food-focused traveler, as mentioned above. She taught baking at Le Cordon Bleu College of Culinary Arts and also ran an award-winning artisan chocolate business in Los Angeles for 10 years.
Prior to her work in the food business, Susie was an executive at NBC, CBS, Disney/ABC and other networks where she supervised television writing and production. She has a B.A. in English Literature from Boston College and certificates in professional baking and chocolate work. She has recently written for The University of Southern California and Larchmont Charter School. She is based in Los Angeles with roots in the farm-to-table culture of the Berkshires of Massachusetts and Kentucky bourbon country, and her travels focus on regional baking capitals and culinary hot spots all around the world.
Two excellent recipes from A Baker's Passport
Vanilla Butter Cake with Chocolate Dulce de Leche
and Bakewell Pudding Tart
Two Ways To Buy A Baker's Passport
Susie's Site
Amazon
You can also request A Baker's Passport at select bookstores
Latest posts by Patricia Rain
(see all)