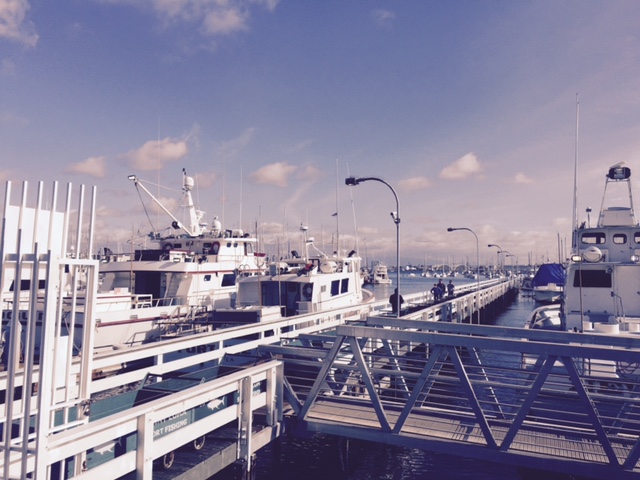 Five friends and I had 36 glorious hours in San Diego, including New Year's Eve. We also spent 18 hours on the road coming and going, a small price to pay for a holiday in one of California's big cities.
My friend Sandra flew in from Vermont to spend ten days in not-so-sunny California as it turned out, including celebrating the new year. The plan was for two friends in San Diego to join us and our friends Anthony and Dennis who also live here in Santa Cruz, but our friends had health issues and cancelled. So, in a serendipitous moment, the four of us decided to head south and celebrate the new year with them. We rented a Honda CRV zip car in town and hit the road at 8:00 am the 31st, taking the old Highway 101.
Talk about a sentimental journey! More than once my parents, brother and I headed south on 101 in late December for a holiday with family friends in the desert outside of Palm Springs. While California has changed dramatically since the 1950s, parts of Highway 101 remain rural, with rolling hills, oaks, poplars, grazing cattle and raptors on telephone wires watching for prey.
California is a long state. Even though we assumed we'd hit heavy traffic in L.A. (we did) and that it would take at least ten hours with fill-ups and a lunch break, we were blessed with very light traffic most of the way and only heavy rain the last 1-1/2 hours. Despite stopping in San Marcos to pick up our friend Novia, we made the trip in nine hours.
Our destination was Hillcrest, a wonderful San Diego neighborhood and home to Balboa Park and the San Diego zoo. Given we had 36 hours to show Sandra San Diego and do as much as possible, Hillcrest is a great neighborhood to land. We stayed at the Sommerset Suites, a very pleasant hotel — clean, convenient and family friendly. The bedroom had two double beds and the sitting room had a comfortable sofa-bed as well as a small-but-complete kitchenette. Every evening there were delicious brown-butter chocolate chip cookies at the front desk for guests, and an ample complimentary breakfast.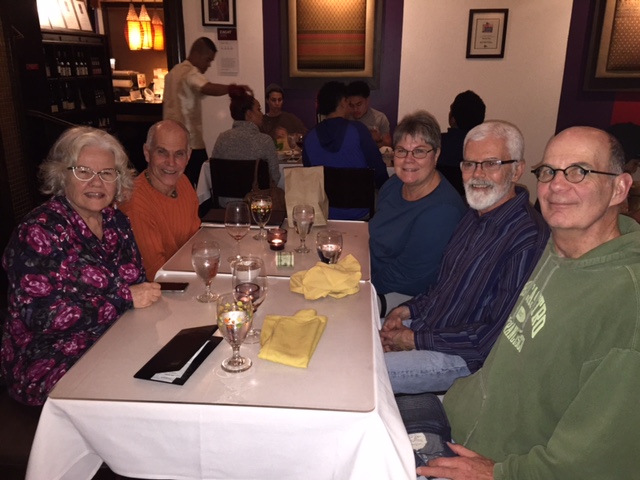 The bag on the table has my restorative Thai soup.
Our first destination was Amarin, an excellent Thai restaurant, a short walk from the hotel. Unfortunately, I was fighting a virus that wanted to give me bronchitis, so I stayed in instead of celebrating. I had a good night's sleep and won the battle with some help from the perfect soup from Amarin, a chicken and coconut milk broth with mushrooms, chicken, lemon grass, galangal and ginger.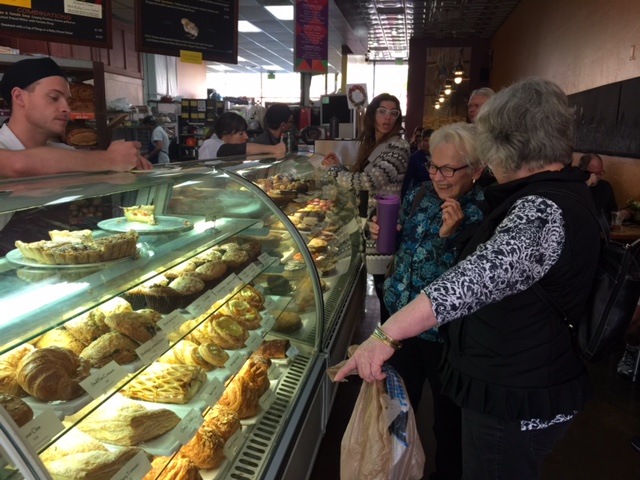 New Year's day was clear, cool and sunny. We walked to Bread & Cie, an iconic neighborhood bakery not to be missed. Even better, it's next door to Peet's Coffee. In addition to excellent pastries and breakfast rolls, they make breakfast pizza, quiches, breakfast and lunch specials and sandwiches.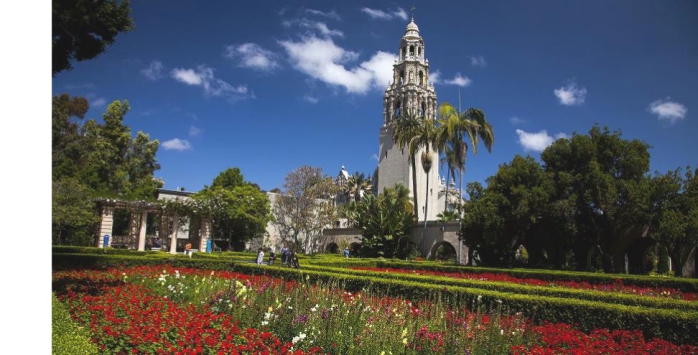 We began our tour with Balboa Park. The site of the 1915 World's Exposition, the beautiful buildings were rebuilt to the original specs and feature Spanish Colonial Revival, Mission Revival and Pueblo Revival architecture. The park houses 20 museums, the Old Globe theater and a performing arts auditorium, outdoor music, artisan shops and much more than I can list here. It also has beautiful botanical gardens and, being Southern California, the weather allows for outdoor yoga, Qi Gong, and Tai Chi classes year-around along with archery and golf. This park deserves a multi-day visit to fully enjoy all it offers.
We next drove to the Point Loma area, home to seafood restaurants, a large marina and boat moorings and Liberty Station, a former naval training center that now houses a public market offering a huge variety of food stalls and restaurants as well as an arts community and numerous artisan shops. Beautiful homes that were once part of the naval base showcase Southern California architecture with a strong Mediterranean influence.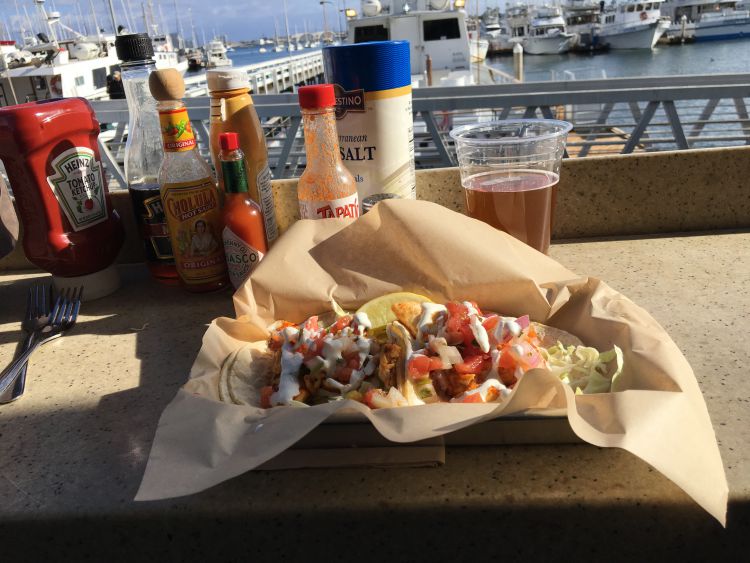 We had lunch at Mitch's, a locals favorite that has the best fish tacos in town. Hidden behind the more expensive restaurants, Mitch's was launched by four local families with a long history of fishing out of L0ma Point. The restaurant offers sustainable fish and seafood and craft beers.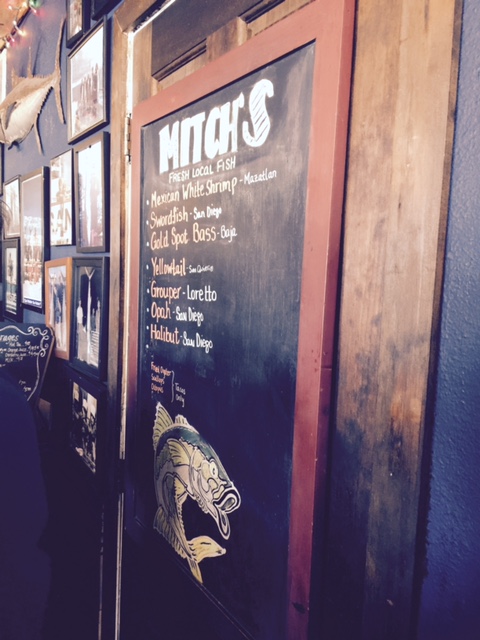 There are numerous boards with menu options as well as well as information on where the fish being served comes from. The place to sit, weather allowing, is outside with an excellent view of the Marina, yachts, the fishing fleet and even military ships at the base on the edge of Coronado Island in San Diego Bay.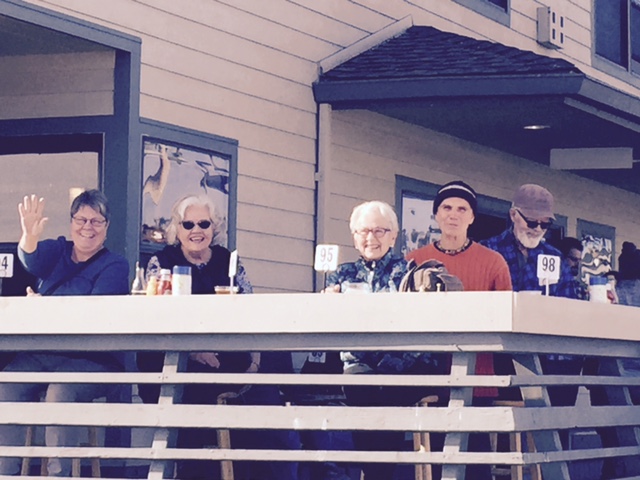 After lunch we had hoped to sample freshly made fudge from an artisan candy company but it was closed for the holiday. Undeterred, we headed back up to Hillcrest and the famous San Diego Zoo. We took the trolley around the zoo for an overview of the exhibits, then walked down the hill to see the giant panda mother and child, on loan from China and cared for by the Panda Research Station at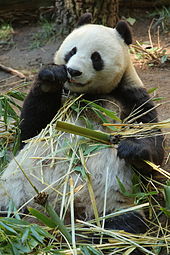 the zoo. Frequently the pandas are asleep and not in view; we were there at the perfect moment to watch them dine on bamboo.
Along with the animals, exhibits and facilities for studying and caring for endangered animals (they have a program for ending wild animal extinction), the zoo is also famous for their botanical gardens, which are beautiful and throughout the zoo grounds. If you love wild animals, there is also the 1800 acre San Diego Zoo Safari Park (formerly called the San Diego Wild Animal Park), in the San Pascual Valley of San Diego near Escondido. I haven't been there since the mid-1980s but it's quite impressive and provides a lot of endangered animal species space to roam and live in smaller-but-similar surroundings to their native habitats.
We ended our day at the Whole Foods Pub in Hillcrest where they serve craft beers and wine and small plates. You can also bring prepared food from the spacious store deli into the pub, and children are allowed into the pub. If you're looking for something more upscale, there are numerous good restaurants throughout Hillcrest and it's a short distance to Liberty Station's Public Market. Additionally, Ki's in Cardiff and Tender Greens in Liberty Station offer healthy meals at affordable prices.
Although we didn't have time this trip to visit the Gaslamp Quarter in downtown San Diego, this is a vibrant area of the city, filled with restaurants, shops and nightclubs. Additionally, at the north end of San Diego is Old Town San Diego State Historic Park. A city trolley ride away, the 200 acre park, considered the birthplace of California is also accessible by Interstates 5 and 8. There are a number of Mexican restaurants, featuring Margaritas, a large variety of Mexican foods and freshly made tortillas. There are also historic buildings operated by the state, county and city park agencies and Whaley's Museum. There are large, grassy areas for kids to run and specialty shops to browse.
All this and I haven't even mentioned how close San Diego is to the Mexican border, or the mountain town of Julian, famous for their apple groves, the beautiful beaches and surfing breaks, the universities…the list goes on.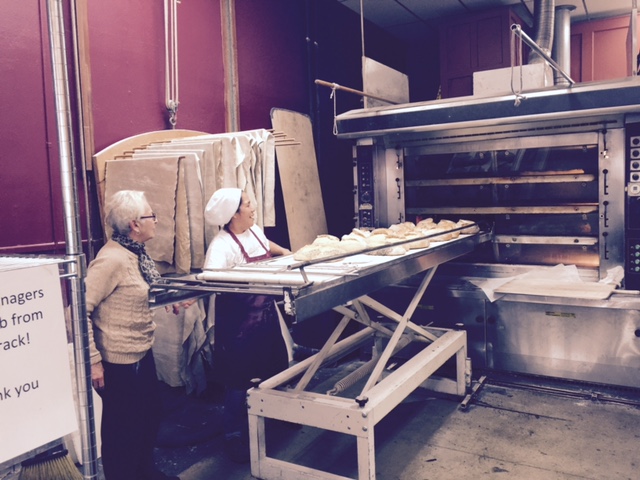 The following morning, we ended our visit back at Bread and Cie where I had an excellent chocolate almond croissant and purchased a cinnamon roll to go. I also had the unexpected opportunity of meeting Loretta, a Bread and Cie living treasure and master bread maker. Loretta began her tenure at Bread and Cie as a cleaning woman over 17 years ago and received hands-on training in bread making.
Originally from Guadalajara, Loretta knows nearly everyone in the community and is a bit of a celebrity. She's a steadfast Chargers' fan, often hosted by bakery visitors to attend games with them. She and I chatted in Spanish as she loaded and unloaded loaves of breads. We ordered a plate with slices of several varieties of bread and Loretta brought us half a baguette fresh from the oven as well.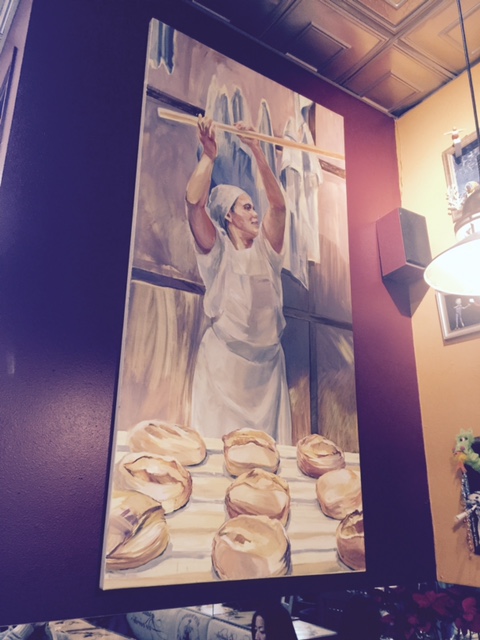 Filled with delicious baked goods and warm beverages, we said goodbye to our friends and headed north to Santa Cruz under grey skies. Just as we didn't hit the rain until Los Angeles on our way down, we made it to King City before we hit the rain again. On our way back we decided that next year we'll take the Amtrak Coast Starlight down and back so that we can visit, relax and eat while traveling the Coast and spend two days in San Diego. The train, while slow, is less expensive than flying and certainly a more scenic trip than the highways, plus it adds a bit of nostalgia to the holiday. I hope this will inspire you to follow suit and spend some time in San Diego in the near future — Maybe even New Year's Day.
Latest posts by Patricia Rain
(see all)