By Alice Medrich (Artisan Books, 2012)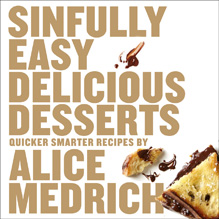 Dessert: Who doesn't love it? Even those of us who have sworn off of sugar or beg-off to hold at-bay another pound, secretly have illicit thoughts of a rich, warm morsel from the oven in deep winter, or an icy granita or a cone filled with buttery, creamy ice cream on a blistering day.
Okay, maybe I'm projecting a little too much. Truth is, I love dessert! Years ago I had a conversation with a five-year-old boy, and we admitted to each other that we didn't have a sweet tooth; we had sweet teeth – a mouth full of them! My grandsons would agree that they too would walk a mile in the snow for something chocolate.