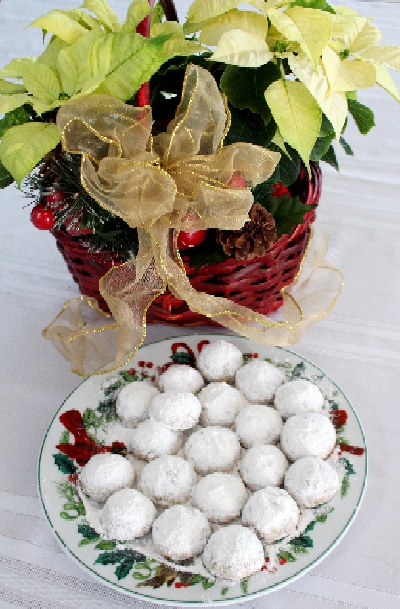 Whenever I think about holiday baking, Russian Tea Cakes (aka Mexican Wedding Cookies) are at the forefront of my mind. What's not to love about the buttery, crumbly deliciousness of these cookies. with their fragrant toasted nuts and powdered sugar spilling everywhere? Okay, the powdered sugar part can be annoying. What I do love about these cookies is that they're pretty much popular worldwide with essentially the same ingredients though some come with a few special touches.
I recently found a unique version of these cookies in Sunset Magazine. Created by Yigit Pura of "Tout Sweet Patisserie," they are noted for their extreme crispness and toasty-brown butter flavor. I also like that they're made with vanilla bean paste. The recipe calls for 1 tablespoon cognac or brandy. Prefer a different alcohol or want to substitute a liqueur? Why not? And, if you don't want alcohol, you can substitute milk.
Yigit suggests creating cookies 1-1/2 tablespoons each. I personally prefer these cookies smaller because the powdered sugar can be overwhelming with big cookies. Just like the alcohol used, you get to decide on the size you'd like to make the cookies. Just remember to adjust the bake time accordingly.