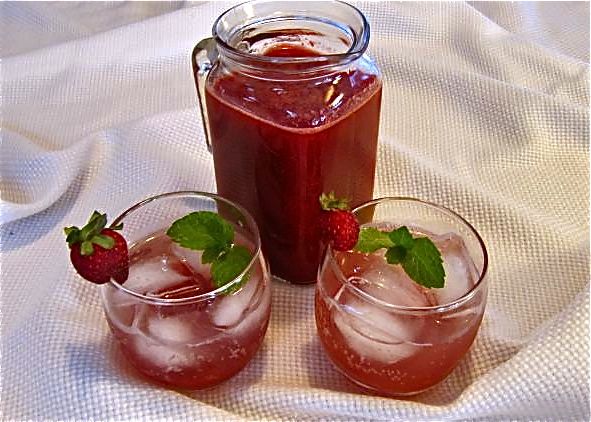 Have you noticed how food trends and recipes are recycled — what's long forgotten is once again the next best thing? Except it often reappears transformed. As an urban culture obsessed with food, we have access to endless ideas and techniques to tease out the best.
I especially noticed this about the trending popularity of shrubs. Shrubs are an old beverage. Old as in 1500's Renaissance era old, maybe even older. The word comes from the Arabic shurb, drink and/or the Hindi Sharbat, a brightly flavored syrup made from fruits or flowers and herbs, blended into cold water and enjoyed as a refreshing beverage.
When I was growing up my mother talked about drinking raspberry shrub at her grandparents' farm in Ontario, Canada. While I adored anything raspberry, I couldn't get past the vinegar, a key ingredient in shrubs. She said it was such a refreshing drink on a hot day. I wondered how anything containing vinegar could possibly be refreshing. Drinking something as sharp as vinegar on a hot day — really??
Fast forward to the current cocktail trend. For the last several years I've watched bitters, tonics and shrubs evolve to near rock star status in blogs, natural food stores, tony bars and upscale restaurants. I flirted with making it, but held off until a recent blog on Food 52 brought me to the cliff's edge.
I jumped…and I'm sooooo happy I did.