So many choices. So many prices.
Are they all the same? What is the best vanilla?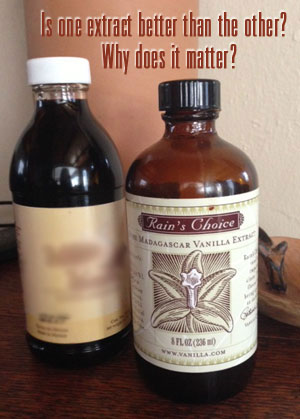 Have you ever stared at the vanilla extracts on the store shelves and wondered which is the best vanilla extract to buy? In some respects, choosing a vanilla extract is like selecting a fine wine. How do you know which one to buy?
Read on for an insider's view of vanilla extract, how to choose what's best for you and why high-quality vanilla makes a world of difference in flavor.
The best quality vanilla extracts come with a price
The simple answer for what is the best vanilla extract often boils down to price. Good vanilla is not cheap. And because it is so pricey (it's the world's most labor-intensive crop), customers are often put off by sticker-shock.
Most supermarket vanilla extracts are mediocre
So stores try their best to buy the cheapest extracts they can find. That means most supermarket vanilla extracts — both brand name and store brands — while they may be pure vanilla, are usually of mediocre quality in comparison to the really fine quality extracts that are available elsewhere. This is also true in the big-box stores where bulk vanilla is fairly inexpensive.