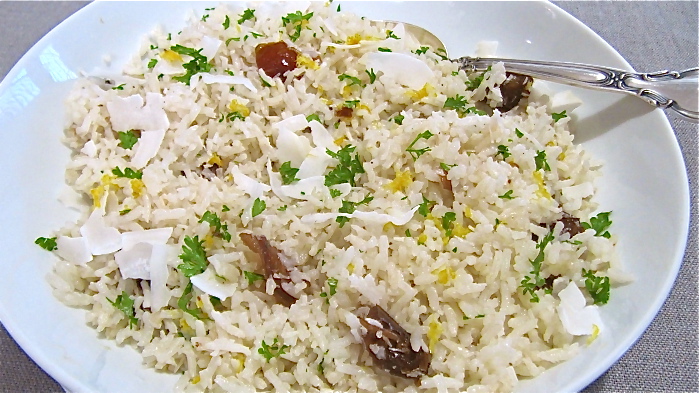 This is really good! Although it isn't sweet, except for the dates, it's like a savory dessert. That said, it goes very well with meats, poultry, fish or vegetarian entrees and is especially nice with Southeast Asian and Pacific Islands foods. Kids who aren't put off by dates would really enjoy it. You could substitute raisins if you prefer.
Print
Rice with Coconut, Vanilla, Dates and Lemon
2–2/3 cups coconut milk
1–3/4 cups basmati rice (white or brown)
1 teaspoon Rain's Choice pure Vanilla Extract
1/2 teaspoon sea salt (or to taste)
1 cup unsweetened shredded coconut 3/4 cup pitted dates, thinly sliced (Bahri or Medjools are especially nice)
1–1/2 teaspoons grated lemon zest
3 tablespoons fresh lemon juice
Instructions
In a heavy 2-quart saucepan, combine rice with liquid and bring to full boil. Add salt.
Reduce heat to low, cover and cook 15 minutes. Remove from the heat and let stand, covered for 10 minutes. Add vanilla extract.
Fluff the rice into a hot serving dish. Toss with dates, coconut, lemon zest, and lemon juice to taste.
Garnish with extra lemon zest, coconut, and parsley.
Did you like this post?
"Like" it, and share your thoughts in the comments below!
Latest posts by Patricia Rain
(see all)