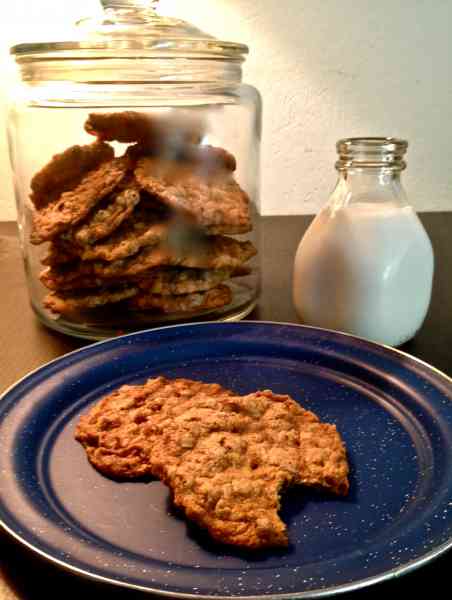 Like most of us who were raised on chocolate chip cookies, I'm crazy about them. However, I find a lot of ccc's boring because they're a little too bland and sugary. Kind of the "white bread" version. That's why I like them with toasted oats and nuts. But what makes these Oatmeal Chocolate Chip Cookies most interesting is the chocolate. Chocolate chips are fine, but most of the brands contain paraffin so they don't melt easily and become gooey. If you can find them, I like Guittard's pistoles or wafers, which are chocolate discs that have a lower melting point and are quite tasty. I chop them coarsely. They come in an extreme milk chocolate at 38% or bittersweet at 66%. Whether chocolate you use, buy the best you can afford, as it really makes a difference.
An additional trick that makes chocolate chip cookies memorable, is to allow the dough rest in the refrigerator for at least 12 hours. Why? Because the liquids have time to be better absorbed by the flour and it gives the gluten in the flour time to relax so that the cookies come out with a brown crispness on the outside, moving toward a chewy center. Delicious!
Print
Simply Fabulous Oatmeal Chocolate Chip Cookies
1 cup (1/2 pound) unsalted butter, softened
1–1/4 cups packed brown sugar
3/4 cup granulated sugar
2 eggs, room temperature
1 tablespoon Rain's Choice pure Vanilla Extract
1–1/2 cups unbleached all-purpose flour
2 teaspoons baking soda
1 teaspoon salt
2–1/3 cups oats (not instant)
12 ounces high quality semi-sweet chocolate chunks or Guittard baking wafers, coarsely chopped
1 cup chopped, toasted walnuts
Instructions
Place butter in a large bowl, and beat butter with a mixer until light and fluffy. Add sugars a little at a time and continue to beat until fully incorporated and fluffy. Add eggs 1 at a time, beating well to incorporate. Add vanilla.
In a separate bowl sift flour, baking soda and salt into a medium bowl. Add oats and blend well.
Pour dry mixture into the wet mixture and stir with rubber spatula until well incorporated. Add chocolate and nuts.
Place mixture in refrigerator and allow to rest for at least 12 hours. When ready to bake cookies, preheat oven to 350 – 375 degrees F. Grease cookie sheets or line with parchment.
Using a small ice cream scoop or 1/4 – 1/3 cup measuring cups, scoop cookies onto the sheets, leaving about 1-1/2 – 2 inches between cookies. This will make thicker cookies. If you prefer thinner cookies, flatten them with the back of a spoon or your hand.
Bake in the middle of the oven. Check cookies at 9 minutes. Depending on oven and size of cookies, it will take between 9 and 12 minutes for them to be ready.
Place baking sheet on cooling rack for 2 minutes. Slide cookies on parchment onto cooling rack and allow to cool. Store in an airtight container.
I have cut the brown sugar in the original recipe by 1/4 cup. If you don't want a really sweet cookie, you could cut the sugar by another 1/4 cup. Conversely, if you like a sweeter cookie, add an additional 1/4 cup brown sugar.
Look Delicious?
Pin it for the world to see!
Latest posts by Patricia Rain
(see all)