Honey Vanilla Fruit Compote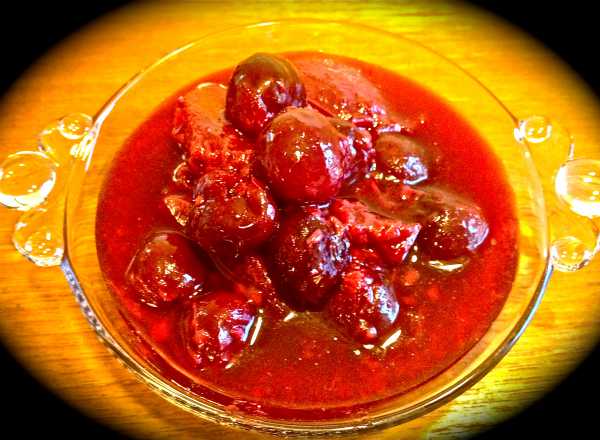 This is a slight adaptation of a recipe from Vera Cruz. While Vera Cruz is largely a tropical state, there are mountainous areas with more temperate climates within the state as well as in the adjoining states of Hidalgo and Puebla where stone fruits thrive.
Honey Vanilla Fruit Compote
2014-11-08 16:38:17
Ingredients
1 1/2 cups honey
3 1/2 cups water
1 Rain's Choice vanilla bean, split or 2 teaspoons Rain's Choice pure vanilla extract
6 - 8 small, ripe but firm, fresh peaches (about 2 lbs)
6 - 8 ripe but firm, fresh plums
1/2 lb fresh cherries with stems
2 - 4 thin slices of lime, halved
Instructions
In a 3 quart saucepan, combine honey and water. Place pan over medium heat and bring to a simmer, stirring to dissolve honey. Place vanilla bean in syrup and reduce heat to low.
Meanwhile, bring another large saucepan of water to a boil. Plunge peaches into boiling water for a few seconds, then remove and peel. With a small sharp knife, make 4 vertical slices in the peeled peaches and in the plums so they may absorb the syrup. Add peaches and plums to simmering syrup and poach fruit, stirring gently from time to time, for 15 minutes. Add cherries and continue to poach for an additional 10 - 15 minutes or until fruit is tender, but still holds its shape. Allow fruit to cool in the syrup. Remove vanilla bean, rinse, dry and store as recommended.
Serve compote chilled or at room temperature. Garnish with thin slices of lime.
Makes 6 servings.
https://vanillaqueen.com/
Look Delicious?
Pin it for the world to see!
Patricia Rain
is an author, educator, culinary historian, and owner of The Vanilla Company (www.vanillaqueen.com), a socially conscious, product-driven information and education site dedicated to the promotion of pure, natural vanilla, and the support of vanilla farmers worldwide. She also does culinary presentations for food professionals, cooking schools, trade shows, food fairs, and private groups, and is a regular radio and TV guest.
Latest posts by Patricia Rain (see all)
Tags: Fruit, fruit compote, Honey, Honey Vanilla Fruit Compote
Trackback from your site.