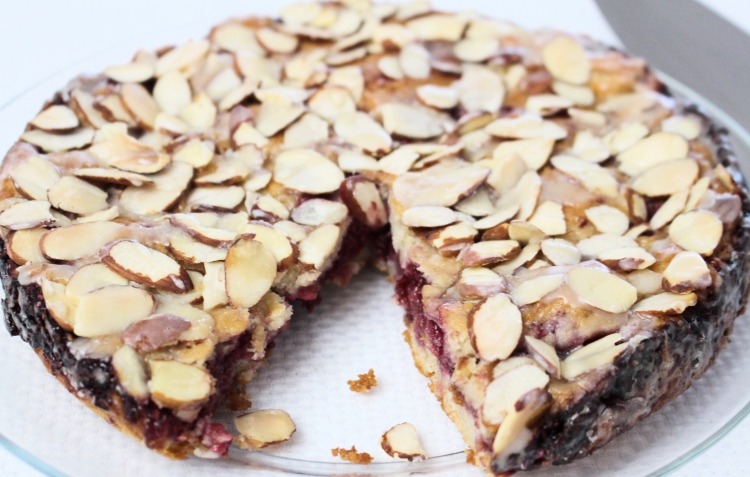 Living on the Central California Coast I almost feel guilty because of the magnificent produce we have year 'round. This is especially true when the artichokes, asparagus and fresh garlic start appearing in the markets in late March — the harbingers of spring. The strawberries aren't quite ready but they'll follow soon; by May the farmer's markets are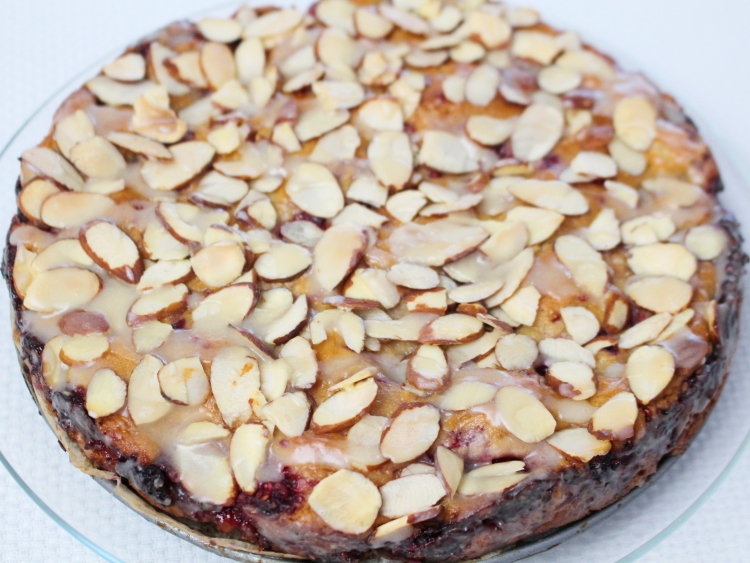 bursting at the seams with everything spring including the first stone fruits. Just as the last freezes are finishing in much of our country, we are feasting on a banquet of produce.
What I hadn't anticipated so early were 12-ounce packages of organically-grown raspberries last week at an affordable price. I picked up two packages, ate some immediately, then began thinking of what to make with them. I remembered a coffee cake I made several years ago using frozen berries and wondered if using fresh berries would make a difference. The answer is YES!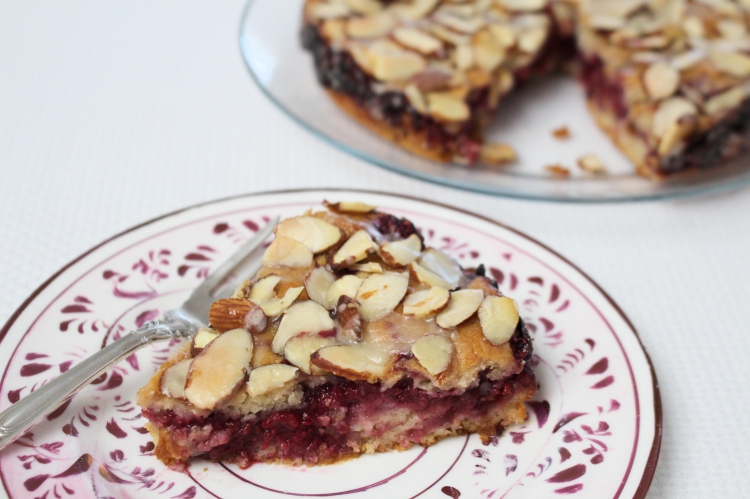 Don't set this recipe aside if only frozen berries are available as they work just fine. But, if you have access to fresh berries — they can be blackberries, blueberries, boysenberries or huckleberries — the freshness of the fruit makes for pure deliciousness!
Serve this scrumptious cake with coffee or tea morning or afternoon just as it is, or add a dollop of lightly sweetened whipped cream or creme fraiche. It's even a nice treat mid-evening if you want something mildly sweet before bed.
This recipe converts well for gluten-free. Substitute a cup of GF flour and add 1/2 teaspoon xanthan gum (if not included in flour) in exchange for the wheat flour.
Print
Fresh Berry Coffee Cake
1 cup fresh berries
3 tablespoons brown sugar
1 cup unbleached flour
1/3 cup sugar
1/2 teaspoon baking powder
1/4 teaspoons baking soda
1/2 cup vanilla yogurt
2 tablespoons butter, melted
1 teaspoon Rain's Choice Pure Vanilla Extract
1 large egg
3 tablespoons toasted sliced almonds
1/4 cup vanilla powdered sugar
1 teaspoon milk
1/4 teaspoon vanilla extract
Instructions
Preheat oven to 350 degrees.
1 8-inch round cake pan lightly oiled or buttered;
Combine raspberries and brown sugar in a bowl. Set aside.
Combine flour, sugar, baking powder, and baking soda in a large bowl. Combine yogurt, butter, vanilla, and egg in a small bowl; mix well.
Add liquid ingredients to flour mixture, stirring just until moist. Spoon 2/3 of batter into an spread evenly. Top with berry mixture. Spoon remaining batter over berry mixture; top with almonds.
Bake at 350 degrees for 40 minutes or until a wooden pick inserted in center comes out clean. Let cool 10 minutes on a wire rack.
Combine powdered sugar, milk and vanilla extract and stir well. Drizzle over cake. Serve warm or at room temperature.
Notes
If you're serving this cake a day after making it, warm it up slightly; it accentuates the fruit.
Look Delicious?
Pin it for the world to see!
Latest posts by Patricia Rain
(see all)