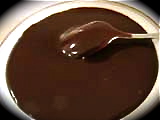 Sweet Bittersweet Chocolate Ganache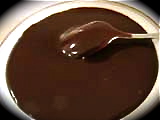 Courtesy of Susie Norris, author of Chocolate Bliss
Susie says about ganache: Ganache is one of the great creations of the chocolate world. it is a very versatile emulsion of melted chocolate and cream. It can be poured as a glaze, whipped to make icing, piped to decorate cakes, shaped into truffles, thickened with butter, flavored with alcohol and herbal infusions, or blended with fruit. While you can certainly make ganache by hand with warm chocolate, warm cream, and a whisk, the food-processor method, below, is favored by many pastry chefs and chocolatiers. The rapid action of the machine's blades creates a smooth texture and a very stable emulsion. Immersion blenders work well too. If you envision a cake with thick icing layers and decorations, double this recipe. (The perfect chocolate cake for ganache? Gift of the Gods Cake, also by Susie Norris.)
Print
Sweet Bittersweet Chocolate Ganache
6 ounces high-quality dark chocolate, finely chopped
3 ounces high-quality milk chocolate, finely chopped
1 cup heavy cream (not ultra-pasturized)
3 tablespoons agave or honey
2 teaspoons Rain's Choice pure Vanilla Extract
Instructions
Put the dark and milk chocolates in a medium stainless steel bowl over a saucepan of simmering water and heat just until the chocolate melts, then transfer the warm chocolate to the bowl of a food processor. Meanwhile, heat the cream in a small saucepan over low heat just until it starts to simmer. Pour the warm cream into the warm chocolate and wait about 1 minute. Add the agave or honey and vanilla. Run the food processor. You'll notice that the mixture will look speckled and separated, then will come together as a uniform ganache. Adjust the flavors to taste.
Latest posts by Patricia Rain
(see all)
Tags: Chocolate Bliss, Susie Norris, sweet bittersweet chocolate ganache
Trackback from your site.
Patricia Rain
Patricia Rain
is an author, educator, culinary historian, and owner of The Vanilla Company (www.vanillaqueen.com), a socially conscious, product-driven information and education site dedicated to the promotion of pure, natural vanilla, and the support of vanilla farmers worldwide. She also does culinary presentations for food professionals, cooking schools, trade shows, food fairs, and private groups, and is a regular radio and TV guest.