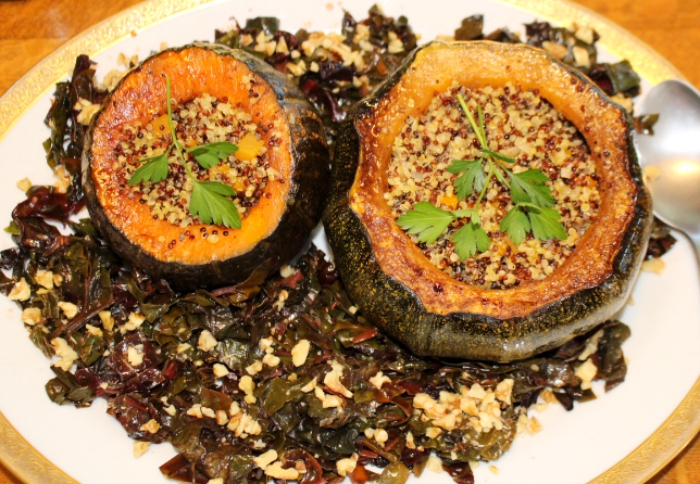 A few months ago, I saw a winter squash I hadn't seen for a long, long time at a local farmers market. I asked the seller what he called the squash; he said, "Mexican squash." I chuckled, as squash, like corn and beans, are the three most important foods of the Americas that fueled Mesoamerica, long before the conquest. I told him that I had eaten this very same variety of squash in the 1960s when I lived in Guatemala. There, the indigenous name for the squash was Guicoy. I immediately purchased it as it triggered memories of being charmed by the baked stuffed squash filled with ground meat, onions, rice and spices.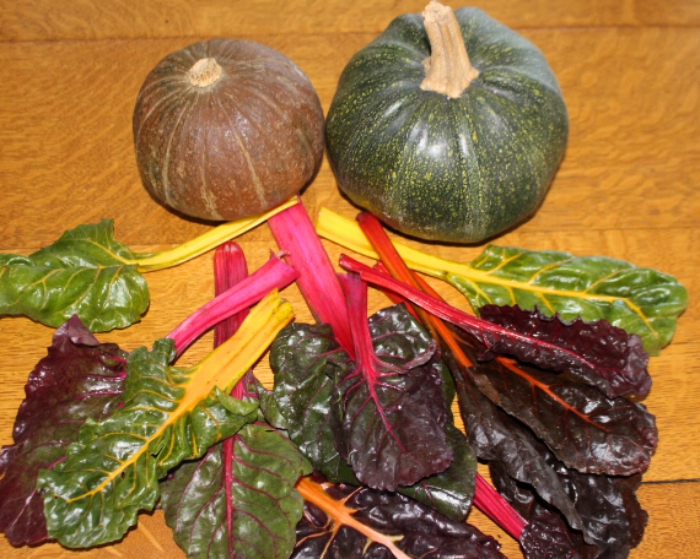 The squash (Kombucha is on the left and the Guicoy is on the right hand side) served as an attractive kitchen decoration until I finally had time to tackle it and decide how I wanted to stuff it. Quinoa was a reasonable choice, given it too is a food of the Americas. The following recipe is my version of stuffed squash. If you have a favorite pilaf or turkey stuffing or have leftover rice, meat or mushrooms, you can make your own riff on this recipe. This also applies to the greens you choose. Our local farmers market had gorgeous bunches of rainbow chard, but you can use regular chard, kale, spinach or collard greens, but definitely choose one you like. The combination will give you a really balanced meal.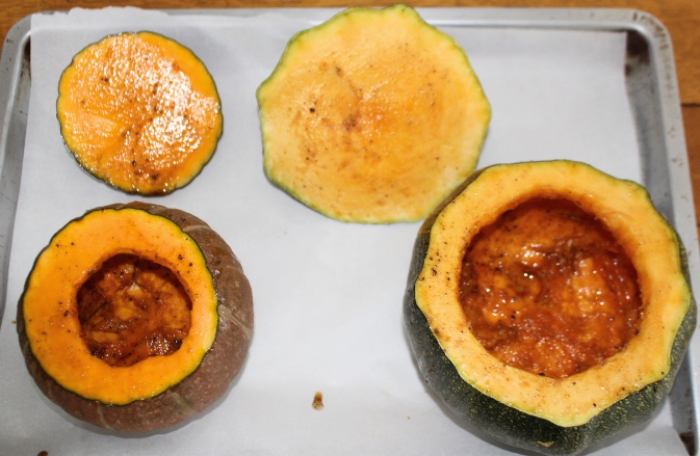 Print
Baked Stuffed Squash
Squash
1 large or 2 medium kombucha or other hard-shelled squash or 4 acorn or baby dumpling squashes
2 tablespoon extra-virgin olive oil
1/2 teaspoon ground allspice
1/2 teaspoon ground ginger
1/2 teaspoon ground cinnamon
1/2 teaspoon Rain's Choice ground Vanilla Bean Powder (optional)
Pinch red-pepper flakes (optional)
Salt to taste
Ingredients for the Filling
1 cup uncooked quinoa (I used tri-color quinoa)
3 tablespoons extra-virgin olive oil
1 medium onion, chopped
1/2 tsp. ground cumin
1/2 tsp. ground coriander
1 3/4 cups vegetable stock
Salt and pepper to taste
2 cloves garlic, minced
Pinch red-pepper flakes (optional)
1–1/2 teaspoons Rain's Choice pure Vanilla Extract
1/2 cup dried tart cherries or cranberries
6 cups stemmed and chopped Swiss chard or kale, cut or torn into bite-size pieces
Freshly squeezed lemon juice
Salt and freshly ground pepper to taste
1/2 cup lightly toasted walnuts, roughly chopped
Instructions
Instructions
Preheat the oven to 350 degrees F and line a rimmed baking sheet with parchment paper.
Prepare and cook the squashes: Make a thin slice on the bottoms of the squash if necessary so they are level on the sheet. Cut off the rounded tops and scoop out the strings and seeds. If using Kombucha or other winter squash with a top, save it for topping the squash as a lid (optional).
Stir the olive oil, allspice, ginger, cinnamon, vanilla powder (if using) red-pepper flakes if using, and salt to taste, together in a bowl, then use a brush to spread the spice mixture over the inside of the squashes. Place the squashes top side down on the prepared pan and roast for 20 to 25 minutes, until tender. Check after 20 minutes using a knife to carefully cut into squash meat to see if it's tender. Timing will depend on what type of squash you've chosen to use. Once the squash is soft, remove from the oven and cover with foil until you're ready to stuff them.)
Put the quinoa in a fine-mesh sieve and rinse well under running cold water. Heat 1 tablespoon olive oil in a saucepan over medium heat. Add the chopped onions and saute until soft, about three minutes. Stir in the cumin, coriander and 1 teaspoon extract if using it instead of ground vanilla powder, then stir in the quinoa. Stir in the stock, cover, and bring to a boil, then lower the heat and simmer for 15 to 20 minutes, until the quinoa has absorbed all the liquid. Remove from the heat and fluff with a fork.
While the quinoa is cooking, heat 1 tablespoon olive oil in a large saute pan over medium heat, then add the garlic, red-pepper flakes (if using), and cherries. Stir for 10 seconds, then add the Swiss chard and season to taste. Saute until the greens are tender, about three minutes for chard, five minutes for kale. Remove from the heat, season with salt and pepper, and squeeze in fresh lemon juice to taste.
Assemble the dish: Heat up the quinoa mixture if it has cooled. When hot, spoon into the squash, place the squashes on a serving platter, nest greens around the squashes, sprinkle with walnuts and serve warm.
Notes
Given this recipe has multiple steps, you can break it down into a two day preparation. Day one, make the filling and clean and cut up greens. Refrigerate until ready to use. On day two, roast the squash and heat up quinoa filling. Toast walnuts and saute greens. Assemble all and serve.
Latest posts by Patricia Rain
(see all)