Almond Rum Cake
This delicate cake was conceived as a coffee cake but it deserves to be elevated to an afternoon and evening tea cake. Feel free to substitute brandy for the rum if you prefer.
Almond Rum Cake
2014-07-21 14:41:07
Ingredients
1 cup raw unblanched almonds
1 cup unbleached flour
1/2 teaspoon baking soda
1/2 teaspoon baking powder
1/4 teaspoon salt
1/2 cup softened unsalted butter
1 cup sugar
1 egg (or 2 -- see above)
1-1/2 teaspoons almond extract (divided use)
1 teaspoon Rain's Choice pure vanilla extract
3/4 cup Greek yogurt or sour cream
1/2 cup rum
1/2 cup confectioner's sugar
2 tablespoons plus 2 teaspoons milk
1 cup sliced almonds, toasted in an un-greased pan until lightly browned
Instructions
Grind raw almonds in a food processor until mealy in consistency. Set aside.
Mix flour with baking soda, baking powder, and salt. Set aside.
Cream butter with sugar. Beat in eggs, and then add 1 teaspoon almond extract, vanilla extract, sour cream, rum and ground almonds.
Combine flour mixture with butter-sugar-almond mixture, stirring only enough to make a thick batter. It should retain some lumps. (They will bake away; over- stirring will toughen the cake.) Pour into buttered and floured 9 inch springform pan*, top with sliced almonds and bake at 350 degrees for 40-45 minutes.
Mix confectioner's sugar with milk and remaining ½ teaspoon of almond extract. Remove cake from oven, pour confectioner's sugar mixture over cake, and return to oven for another 5 minutes or until cake seems firm and not runny inside. (A knife or cake tester will not emerge clean from this cake since it is so moist.)**
Notes
Advance Preparation: This cake tastes best prepared the day before, and continues to stay moist and delicious for three days.
* Cover the outside bottom of the spring form with foil to prevent leakage.
** I personally prefer to cover the top with powdered sugar before serving. Choose whichever finish you like best.
https://vanillaqueen.com/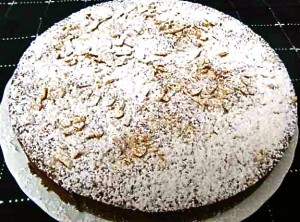 Look Delicious?
Pin it for the world to see!
Patricia Rain
is an author, educator, culinary historian, and owner of The Vanilla Company (www.vanillaqueen.com), a socially conscious, product-driven information and education site dedicated to the promotion of pure, natural vanilla, and the support of vanilla farmers worldwide. She also does culinary presentations for food professionals, cooking schools, trade shows, food fairs, and private groups, and is a regular radio and TV guest.
Latest posts by Patricia Rain (see all)
Tags: Afternoon Tea Cake, Almond Rum Cake, Almond Rum Coffee Cake
Trackback from your site.