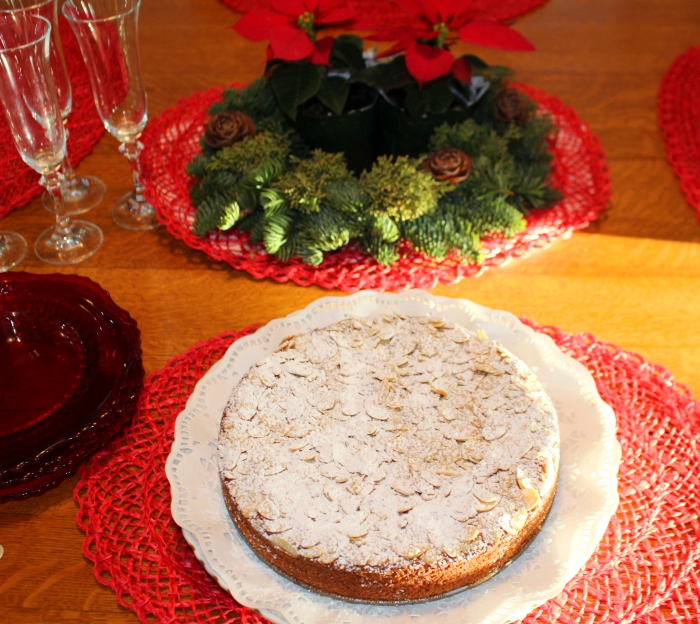 This delicate Rum Almond Cake was conceived as a coffee cake but it deserves to be elevated to a much higher status if for no other reason than it's too boozy for a 10:00 am coffee break! As you can see from the photo, it was the ideal New Year's Eve cake — moist, flavorful and rich enough that a small slice was sufficient.
The recipe calls for almond meal. If you have the time, make your own as the difference in flavor is significant. No need to blanch the almonds; just run them through the food processor until they are finely ground. Feel free to substitute brandy for the rum if you prefer. Personally, I'm very fond of dark rum, but both rum and brandy boost the almond flavor.
I serve this cake with vanilla whipped cream. If you are preparing food in advance, I suggest adding a tablespoon of creme fraiche per half-pint of whipped cream as it stabilizes the cream so that it doesn't separate or become runny.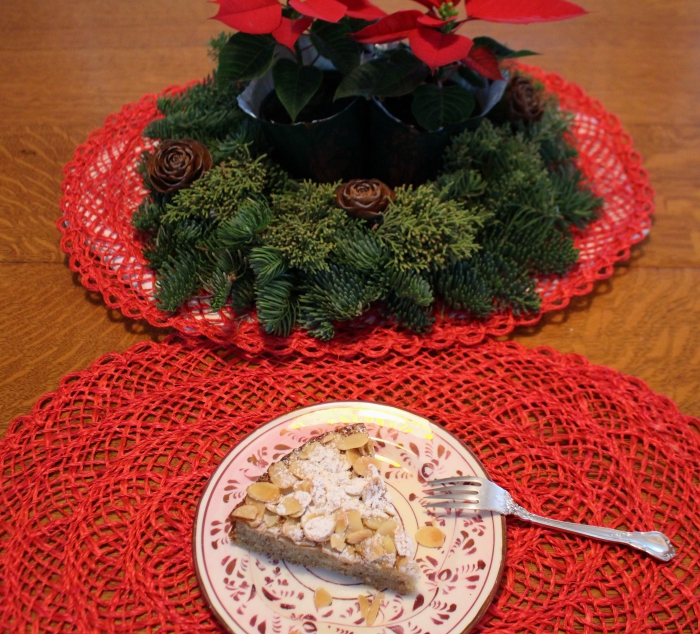 Print
Almond Rum Cake
1 cup raw unblanched almonds
1 cup unbleached flour
1/2 teaspoon baking soda
1/2 teaspoon baking powder
1/4 teaspoon salt
1/2 cup softened unsalted butter
1 cup sugar
1 egg (or 2 — see above)
1–1/2 teaspoons almond extract (divided use)
1 teaspoon Rain's Choice pure Vanilla Extract
3/4 cup Greek yogurt or sour cream
1/2 cup rum
1/2 cup confectioner's sugar
2 tablespoons plus 2 teaspoons milk
1 cup sliced almonds, toasted in an un-greased pan until lightly browned
Instructions
Grind raw almonds in a food processor until mealy in consistency. Set aside.
Mix flour with baking soda, baking powder, and salt. Set aside.
Cream butter with sugar. Beat in eggs, and then add 1 teaspoon almond extract, vanilla extract, sour cream, rum and ground almonds.
Combine flour mixture with butter-sugar-almond mixture, stirring only enough to make a thick batter. It should retain some lumps. (They will bake away; over- stirring will toughen the cake.) Pour into buttered and floured 9 inch springform pan*, top with sliced almonds and bake at 350 degrees for 40-45 minutes.
Mix confectioner's sugar with milk and remaining ½ teaspoon of almond extract. Remove cake from oven, pour confectioner's sugar mixture over cake, and return to oven for another 5 minutes or until cake seems firm and not runny inside. (A knife or cake tester will not emerge clean from this cake since it is so moist.)**
Notes
Advance Preparation: This cake tastes best prepared the day before, and continues to stay moist and delicious for three days.
* Cover the outside bottom of the spring form with foil to prevent leakage.
** I personally prefer to cover the top with powdered sugar before serving. Choose whichever finish you like best.
Look Delicious?
Pin it for the world to see!
Latest posts by Patricia Rain
(see all)